Meet the New Ford Bronco and Ford Bronco Sport at Fowler Ford
The Ford Bronco and Ford Bronco Sport are two of the most iconic SUVs on the roads of Tulsa. The Bronco recently made a return after it was retired by Ford for decades following its release. The Bronco has made a triumphant return, and another model called the Ford Bronco Sport now accompanies it.
The Bronco Sport has a similar appearance to the Bronco, but it is smaller and has the agility of a crossover. The Bronco Sport's frame and interior are based on the Escape, another popular Ford SUV. If you want to get a rugged and durable but still comfortable SUV in Collinsville, the Ford Bronco and Bronco Sport are good bets.
Performance and Handling Features
These Ford SUVs are built with high ground clearance, adaptable suspension systems, and sturdy frames to handle the most challenging off-road driving requirements. You will get four-wheel drive with the Ford Bronco and Ford Bronco Sport.
The Ford Bronco has one standard engine and an optional engine. The standard engine is a 2.3-liter four-cylinder that generates 300 horsepower, and it can get up to 325 pound-feet of torque with high-grade fuel. You have the choice between a manual transmission with seven speeds and a 10-speed automatic.
An available V6 engine produces more power with 330 horsepower and 415 pound-feet of torque. Four-wheel drive is also standard with the Ford Bronco Sport. The Ford Bronco Sport has a turbocharged, three-cylinder engine with a 1.5-liter capacity. This engine produces 181 horsepower and 190 pound-feet of torque. The Bronco tows up to 3,500 pounds, and the Bronco Sport tows 2,200 pounds.
Interior and Technology Features
While the Bronco and Bronco Sport have the power needed to take you anywhere around Broken Arrow, they both have comfortable interiors that range from offering the basics to providing you with a luxurious ride at the top trim levels. Wireless Android Auto and Apple CarPlay are standard on the new Ford Bronco.
The Bronco also has a USB charging port. With the Bronco, you will get an eight-inch touchscreen to start with, and you can upgrade to a 12-inch display screen if you want a larger infotainment system. The Bronco Sport has Android Auto and Apple CarPlay as well. It has a standard eight-inch touchscreen, and it is equipped with Ford's SYNC 3 infotainment technology. The Bronco Sport has a premium audio quality, and you can get navigation to enhance the infotainment system.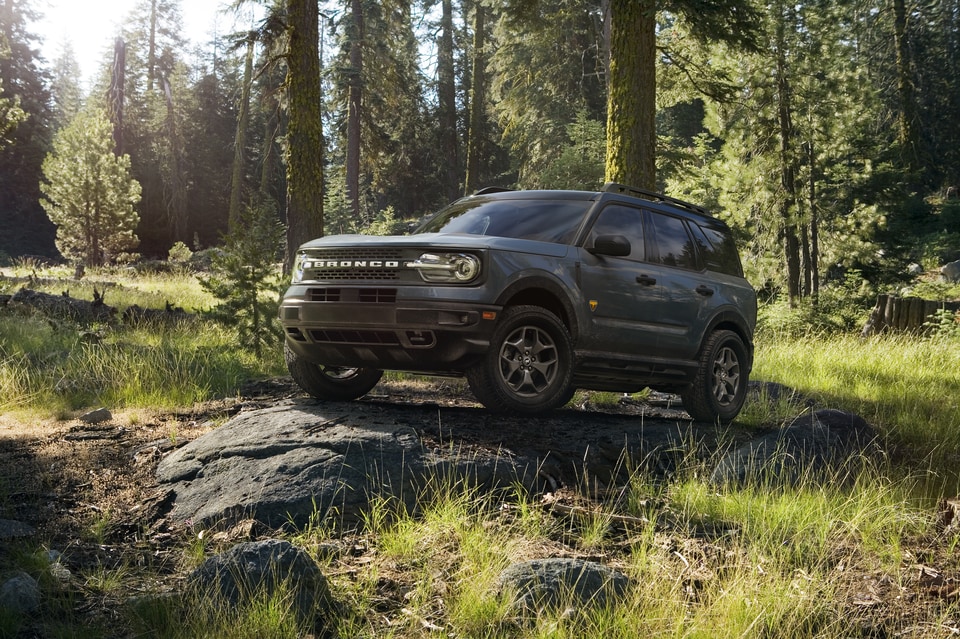 Style and Appearance Features
The Ford Bronco and Ford Bronco Sport have a distinctive appearance that pays homage to the original Bronco while gracefully incorporating modern design elements. Signature rounded headlights and a boxy frame are highlights of the Ford Bronco. The Bronco and Bronco Sport both have standard LED lights for safety. They come with roof rails and are made for adventure with additional features such as high fender arches.
The Bronco Sport near Jenks adds fog lights to the second trim level, called the Big Bend, which also gets heated mirrors. Tinted windows give the Big Bend a unique appearance and more privacy. The Badlands is equipped for off-road handling with front tow hooks and an enhanced four-wheel drive system. Underbody skid plates are another highlight of the trim, and it also has all-terrain tires.
Visit Fowler Ford to Learn More
If you would like to learn more about all the new Ford Bronco and Ford Bronco Sport have to offer, we encourage you to visit our dealership in nearby Tulsa for a test drive. Our friendly and knowledgeable team members can help you pick out the right model and trim level for your unique needs and budget. We look forward to working with you soon!