Ford Parts and Accessories for Sale at Fowler Ford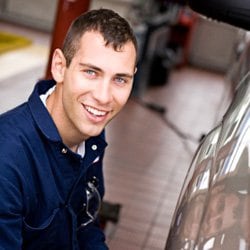 Genuine Ford Parts Available for Drivers in Collinsville, Owasso, and More
When you really think about it, your Ford car, SUV, or truck is nothing more than a big collection of carefully assembled parts. It needs all of them to give you its best, and it only makes sense to invest in the best when something needs fixing.
That's why we'd suggest you call the parts center at Fowler Ford. Based in Tulsa, OK, and serving drivers in the Broken Arrow and Jenks areas, our parts team can connect you to the top-tier parts and accessories you need.
Why Buy Genuine Ford Parts?
One of the most common questions we hear when we suggest our customers invest in OEM-supplied parts is "why?"
"Why should I buy Ford parts when I might find cheaper aftermarket alternatives?"
The answer comes down to quality. While many aftermarket parts will do the job in a pinch, they can't match the quality of something made by Ford. Our genuine Ford parts will perform better and last longer, letting you enjoy more peace of mind on the road.
What sounds like a better idea to you? Perfect fit repairs or repairs done with "one size fits all" parts? We know what we'd pick!
Order Your Parts at Fowler Ford Today to Learn More
Are you ready to order your Ford parts and accessories? Contact the team at Fowler Ford today! We work with drivers all over the wider Tulsa, OK area, and we'd be happy to get started on your parts order.
Reach out to our team to learn more and connect with our parts experts. We'd be happy to answer your questions and connect you to the parts you need. We even offer onsite service to help with your installation.